So, you're ready to design your company's custom shirts with an appealing embroidered logo. Great decision! But have you decided where you are going to place the logo? We mean, where is the right place to put your company logo on a shirt? Not sure? Don't worry!
We at Omaha Print Shop have a few tips on custom embroidered polo shirts for you. After all, the positioning of logos plays a major role in our industry. The five essential areas to think about are the left chest, right chest, back, sleeve, and the yoke—the area below the collar on the back. But which location would be best for you? We will help you decide.
Each placement has its own advantages and drawbacks. So, we have created a list to make it simpler for you to choose. Just select your logo placement option, visit our website, and then get in touch with us to create attractive embroidered polo shirts custom for your company.
Embroidered logo on the left chest
Companies that place orders for custom embroidered shirts frequently choose the position on the left chest to place the logo. As a result, it's one of the most common places for logos on shirts. Having your company's logo embroidered on the left chest or pocket gives it the best possible exposure.
This space is used by many well-known firms, like Nike, Tommy Hilfiger, and others, to create their custom embroidered polo shirts. It's a stylish and traditional method to introduce your logo to the world. Although small logos do fit well, it's advisable to use larger logos to make them more eye catching. This place is ideal for you if you want to follow the path of well-known brands.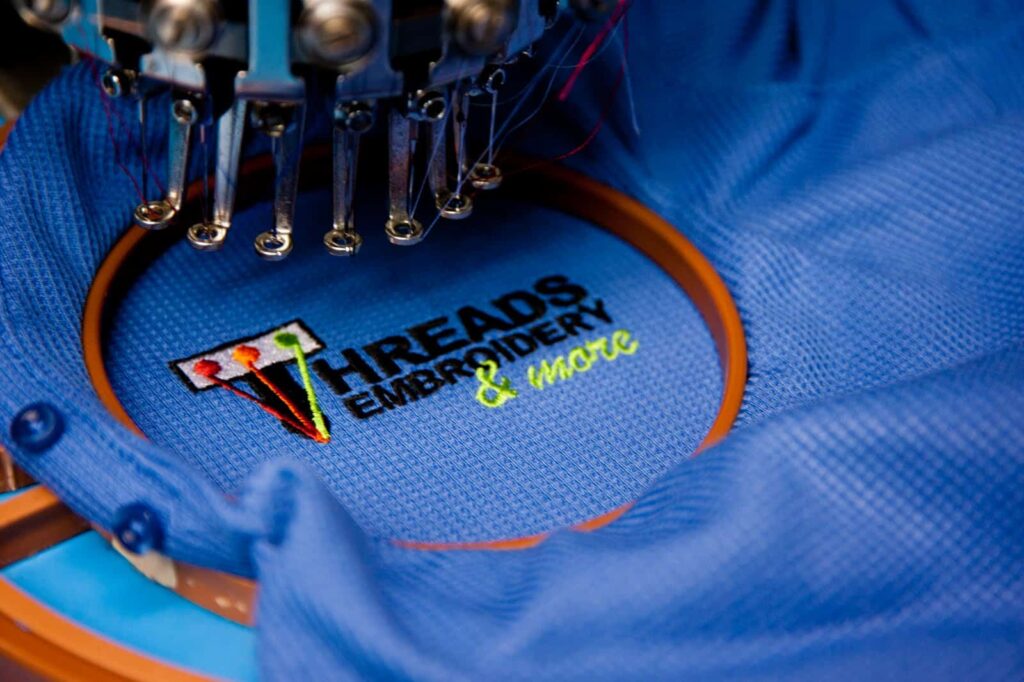 Embroidered logo on the right chest
While similar to the spot on the left chest, this is a less common spot to embroider your company logo. However, because of its unique location, it has the advantage of drawing attention faster. This makes it a fantastic option for a business willing to think beyond the box.
For example, entrepreneurs who boast creativity in their work must consider this logo placement. When your potential customer sees that you chose an uncommon spot to place your logo, it reflects that your company is daring enough to do something out of the league. In addition, this logo placement allows you to represent the free spirit of your company.
Embroidered logo on the back
The shirt's back is an excellent place for a logo if you really want to promote your business. The best method to make a splash at a big event, a public gathering, or a marketing event is with a sizable logo on the back of the shirt. Custom embroidered polo shirts with a logo on the back deliver a bold statement.
Screen printing is typically used for large logos because it is more affordable than embroidery. However, even if it costs a little extra, needlework is still worthwhile. Embroidery makes the logo pop. In addition, it is long-lasting and allows you to use your shirts for a longer time. You must consider that embroidery is the best way to create custom polo shirts.
Embroidered logo on the sleeve
You can put your company's logo on the shirt's sleeve for a more understated and subtle look. Although historically not a common spot to embroider your logo, it is becoming increasingly popular. This spot is unique and adds more style to the shirt.
You can deliver your message more covertly from this place. It works best for clothing giveaways where the recipient is not always an employee. People will consider wearing your shirts more if the logo isn't directly placed on the chest. Custom embroidered polo shirts with a logo on the sleeve work perfectly as unpaid advertising.
Embroidered logo below the collar
Similar to the sleeve, the logo positioned below the collar is less obvious and better suited for businesses looking to adopt a more passive strategy. You must consider this strategy because your logo acts as a walking billboard for your business.
Nevertheless, depending on their goals, it might work wonders for some organizations. It's a creative place to embroider your logo while not dominating the shirt. Any logos placed here should not be larger than a few inches. If you want to create custom embroidered polo shirts for a trade show, this place is fantastic for you. The most significant advantage of this spot is that even if you turn your back on a potential customer, they will still recognize you as a company representative.
Endnote
Now you understand how each placement benefits different purposes. So, according to your goal, which placement are you going to decide on? When searching for logo embroidery near me, contact our professionals. We are happy to help you create the most valuable custom embroidered polo shirts for your business. Especially if you need a little more guidance, don't hesitate to contact us! However, contacting Omaha Print Shop is another way to get in touch with the best printing experts.
Read Also : ARE YOU LOOKING FOR THE BEST T SHIRT PRINTING BUSINESS?